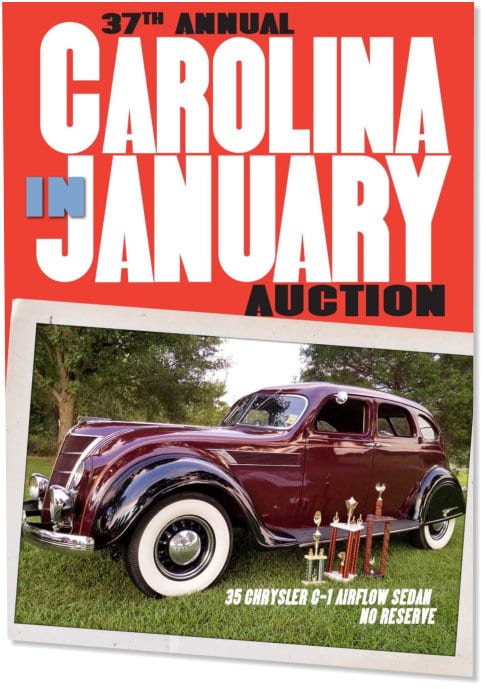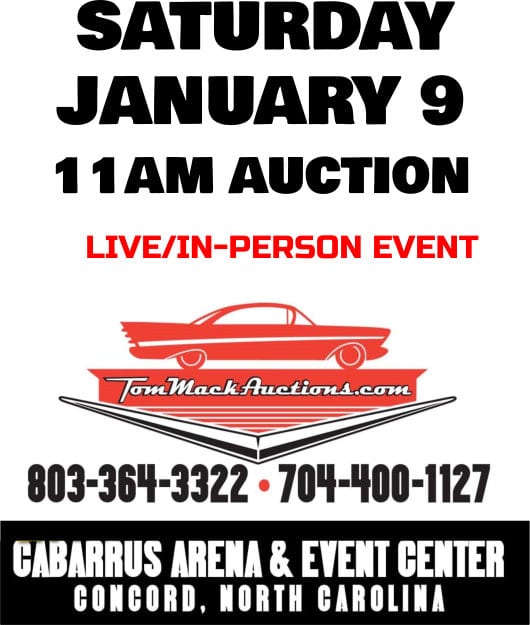 LIVE AUCTION!!
JANUARY 9TH, 2021
We'll be returning to the CABARRUS ARENA AND EVENT CENTER for the 37th Annual CAROLINA-IN-JANUARY AUCTION.
Saturday, January 9, 2021 @ 11:00 AM
General info…
All fees the same; $50 to register to bid, $199 consignment fee, 7% buy & sell fee.
Internet bidding available through motorious.com and a 1% premium will be added to internet purchases.
We're accepting consignments and bidding applications now.  
Consistency Counts!  Charlotte-area collector
car auctions consistently since 1984.
NCAL4017
COVID-19 INFORMATION
Cabarrus Arena & Events Center is open to events at this time with masks required for all Guests over eleven years of age. This action follows the introduction of Governor Roy Cooper's Safer at Home Phase 3 executive order restricting public gatherings and requiring the use of masks in public spaces. Some events may be limited to up to 25 Guests inside a building and up to 50 Guests outside.
Sellers & Bidders Only
Because of COVID and local and state crowd restrictions, attendance at this sale will be restricted to registered bidders and sellers with one guest each allowed.
Unfortunately, NO GENERAL ADMISSION will be allowed at this sale.
All participants will be required to wear a mask at all times in the Auction building and must wear a participant badge which will be provided by us.
Navigate to Concord Auction Site
4751 NC Hwy 49 North,
Concord, NC 28025.