Auction Calendar
Consistency Counts!  Charlotte-area collector
car auctions consistently since 1984
  NCAL4017
"How To" Virtual Auction

Step 1: Create a User Account on the Online Auction Platform
First, go to the online auction website:


Click Here

Next, click the SIGN UP button at the top of your screen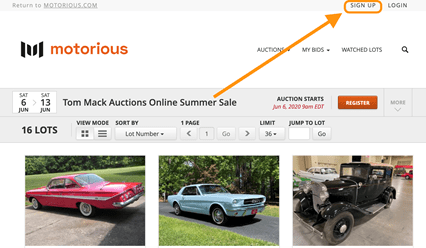 Enter you first and last name, your email, and create a password for your User Account
Success! You now have a User Account for the online auction platform!
Step 2: Register to Bid for the sale
 Now that you have a User Account, you can Register to Bid for this sale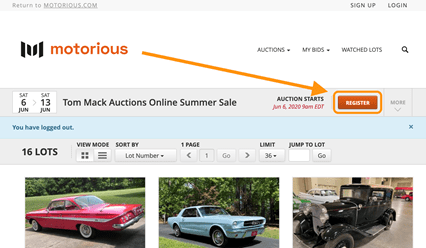 Click the orange REGISTER button on the online auction website If you are not currently logged in to your User Account, the website will ask you to do so
The site will ask for your Credit Card Information to complete the Bidder Registration process. The site will charge your card $1.00 to ensure it is valid. The $1.00 will be immediately refunded
Step 3: Place your Bids
When the lots open for bidding on June 6th, you can now freely place Bids
If you have winning bids when the lots close on June 13th, your credit card will be charged the 7% Buyers Premium ONLY. We will contact you after the sale to finalize the payment, transfer of vehicle ownership, and the shipping of your "new" car!