TOLL-FREE: 888-TOM-MACK
LOCAL: 803-364-3322
FAX: 803-364-2826
LOW-MILEAGE UNRESTORED ORIGINAL VEHICLES
Click any photo for more details
FEATURED INVENTORY
Click any photo for more details
What people are saying about us…
30 years ago  (May 7th), I bought my first wheels from Tom at Spring Carlisle.  I was fresh out of school and my Dad and I drove down from Canada.  He already owned a 40 chev and 39 Ford coupe at that point and we were both car buffs.  I spotted this beauty mid morning on Thursday and it was love at first site.  I had a ton of fun with that car but sadly, I didn't keep it long and sold it within a couple of years to make room for another love in my life (to whom I'm still married :-)).
It was a great weekend shared with my Dad and it was a pleasure dealing with Tom that fine spring day.  I will remember it always.
I hope you folks are still enjoying the car game.
Rich
The 1966 Cadillac was delivered today around 3 PM.  I took some time looking the car over closely, then my wife and I took a 30 mile shake down cruise. We are both very pleased with the appearance of the car, and love the way it drives. It is very original, and very clean everywhere and that is worth a lot; as you said it's hard to find them like that.
So, I just wanted to thank you, I'm very pleased with the car so far. I think this one will be a keeper. I will try to be a good conservator, and when I get too old to be active in the hobby, pass it on to another deserving collector. I love being able to keep a part of history alive and tangible for the following generations. The poor young 'ins today may have to settle for being driven around in autonomous Uber cars, and never even own or drive their own car. I'm glad I passed this way when I did.
Thanks again it was good doing business with you.
Dennis
"We attend many auctions each year, and the Tom Mack Auctions are our favorite. It is a FIRST CLASS event. The auctions are conducted in a very professional and enjoyable manner. A very family like atmosphere is always present, with prayer and recognition to our country, and troops. Whether you are a first time buyer or a season dealer I encourage you to attend one of Tom Mack's Auctions.
Tommy & Shirley
Just a note to say thank you for all your help in selling my cars!  For someone like me who has never been to an auction and rarely sells cars, it was a very pleasant experience. I really appreciate how you took the time to answer all my questions and e-mails.  The detailer did a great job on the Mercedes and it showed very well
M. Nelson
" I just wanted to thank you for finding such a good place to relocate the January show.     My wife was able to use the elevator after you told me and it was fine.  We love the new location and our space was fine.  We look forward to seeing you at the next show and appreciate the hard work that goes into putting on a good show."
Jim
"I wanted to let you know how great your event was in Concord Saturday.A group of us went, and it was so much better than the Metrolina expo building. We found many parts that we were looking for, and 1 of my friends bought a car outside in the swap area. Thanks and look forward to next year's show!
Gary Geissman
"Thank you for letting me know about the auctiion.  I was a seller at your last auction in January.  I have to tell you that I had a great experience with your staff.  They are the most professional people I have ever delt with at an auction.  I have been to Barret Jackson and Mecum but your people are the "cream of the crop" as far as I am concerned.  Keep up the good work! "

Wayne
The Good Life @ Tom Mack Classics
We have been buying, selling and trading antique, classic and special interest cars since 1980.  Tom Mack Jr. started restoring and showing Ford Model A's with his father in the early 1960's, and old cars have become his hobby ever since. This is truly hobby-turned-business.
We usually stock about 20 to 30 collector cars and are always looking to purchase quality collector cars.   Consignments are considered on a case by case basis.
You'll see "In God We Trust" on all our mail.  We take our faith and His grace very serious…and welcome your curiosity.
Our business is a family business and we love it when the gang is all together.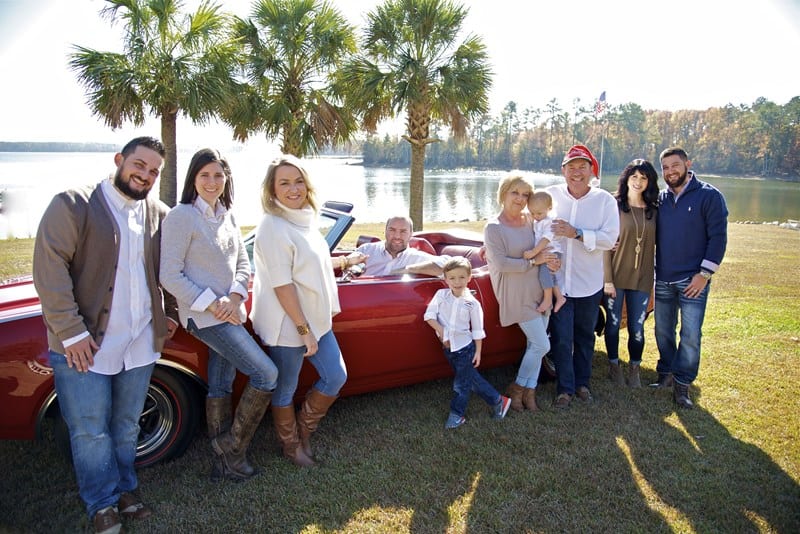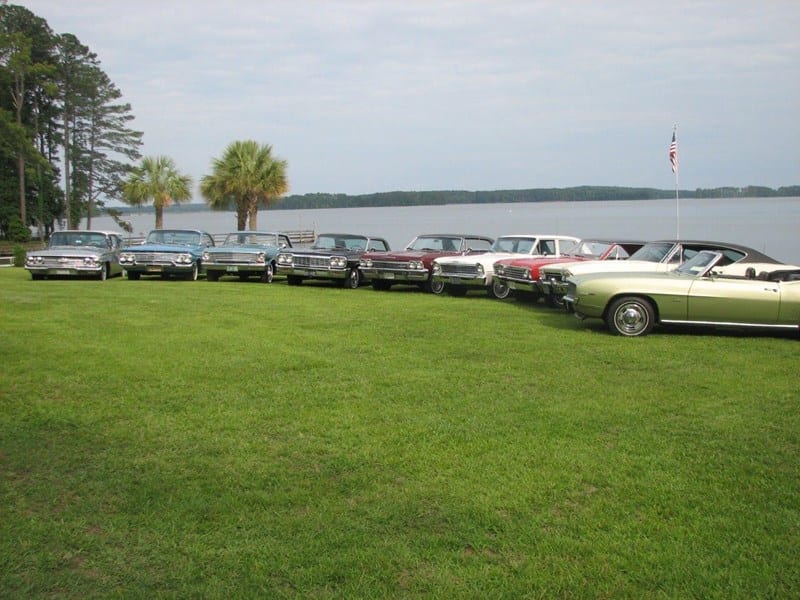 The view from Tom's desk of a recent collection of Chevies.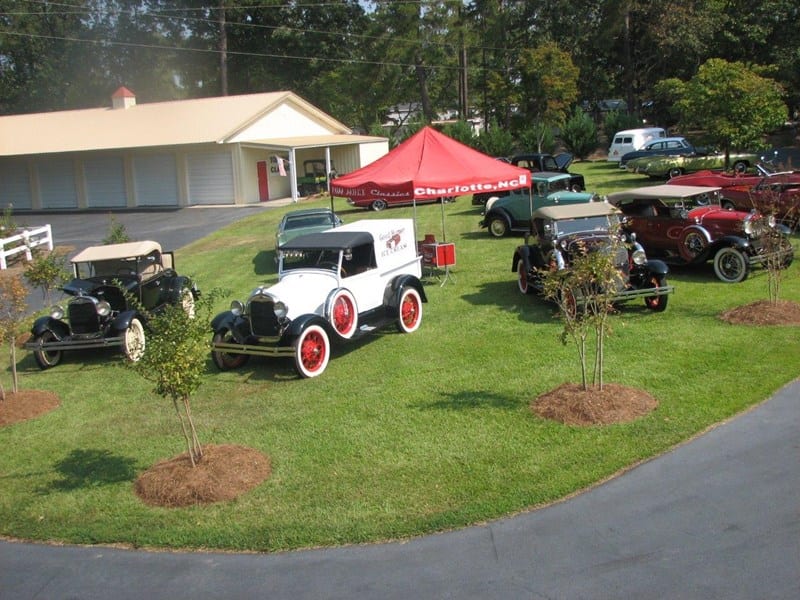 This is Tom Mack Classic's "new" office and showroom hidden in the trees on the shores of Lake Murray, South Carolina.  After 17 years in the metropolitan Charlotte, NC area, we have moved home and established our business here.  While not open to the public, we work by appointment and will try to work around your schedule if you would like to see a vehicle that we have advertised.  We are located about 20 minutes off I-26 near Chapin, South Carolina and our new phone number is 803-364-3322.
We're Consistent!!!