1950 Oldsmobile Rocket 88 Holiday Coupe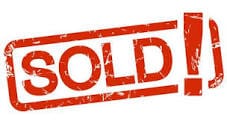 (VIN508W20234)  Only 82K miles from new and same owner since 1974!! 1949 & 1950 were banner years for Oldsmobile. Take the 303ci V-8 along with the "Futuramatic" automatic Hydra-matic transmission and combine that with Harley Earl-inspired styling, the Rockets took off! Oldsmobile advertising shouted "Make a date with a Rocket 88". Some "factory hot rod" features included front and rear sway bars and 11″ brakes.
According to a recent article on hemmings.com: "The Rocket was clearly a game changer: a high (for the time) 7.25:1 compression ratio, overhead valves, short stroke, and 303 cubic inches, all of which conspired to produce 135 hp at 3,600 RPM and 263-lb.ft. of torque at 1,800 RPM."
This Rocket is a good solid driver-quality hardtop.  As it was correctly repainted in 1980, the paint is only driver quality.  Certainly good enough for pleasure cruising and shows, but not good enough to win trophy's. The interior was re-upholstered in white Naugahyde and is in good condition.  Chrome and glass are original and good enough, but not show quality.  Receipts included for engine and transmission rebuilds.  Recent improvements include cleaning the fuel system, replaced fuel pump, rebuilt carb, and a brake job.  Car has been updated to 12 volts for reliability.  It has the georgous factory wire wheel covers and wide whitewall tires.
Again, this is a very rare car that is solid and very complete.  It starts, runs, and drives fine, but it is a driver-quality car that is ready to be driven and enjoyed.  However, if you are looking for a #1 show car at half price, this is not the car you are looking for.
This is a lot of Rocket for $21,900.  Delivery & financing arranged. Tom Mack 803-351-3695