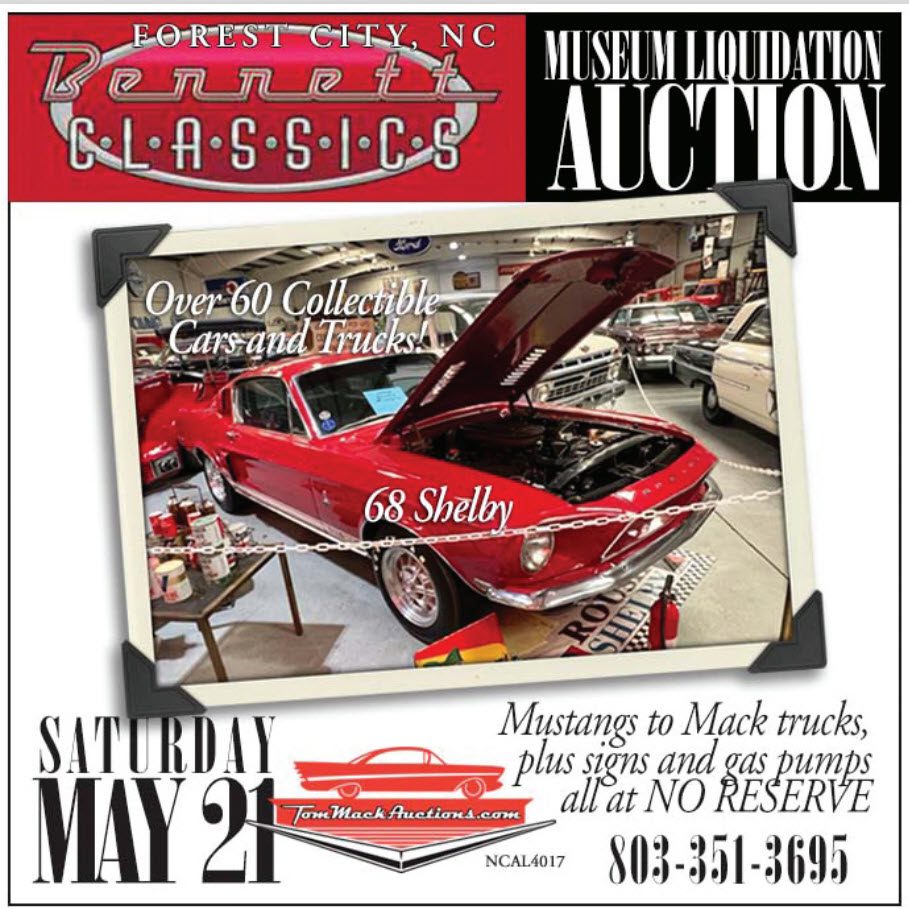 A fortuitous change of circumstances will allow us, for the 7th consecutive year, to have our fall Auction at The Cabarrus County Arena and Event Center in Concord, NC on Saturday, September 24.  This one-day Auction will feature some 150 quality collector cars from enthusiasts, collectors, and local dealers.  This correctly replaces a previously-announced June Auction at the same venue.
We are currently accepting consignments for this Auction.  We are cutting our normal consignment fee to only $99 for this sale. For your $99, we advertise your vehicles on hemmings.com, classiccars.com, proxibid.com, and our website at tommackauctions.com. We offer live, phone, and internet bidding choices.  At our last Auction, we sold vehicles all over the US and even one to the country of Cyprus.  We can and will get a fair price for your quality collector vehicle.
Below, you will see some of the vehicles already consigned for the September 24 Auction.  It is an impressive list so far and it will grow as we get closer to the Auction date.
Please consider taking advantage of our worldwide advertising and call one of us to discuss your vehicle or your collection.
Tim Tuck 704-400-1127 timtuck70@gmail.com
Sherry Mack 704-661-5646 sherry@tommackclassics.com
Tom Mack 803-351-3695 tmack@tommackclassics.com
Tom Mack Auctions
NC Auction license #4017
We hope you have a great summer and we'll see you this September in Concord.
Museum Liquidation Auction
Auto and truck collection of the late Buddy Bennett of Forest City, NC.  Over 60 collector cars and trucks, along with signs, gas pumps, vintage tractors, bicycles will be sold to the highest bidder at NO RESERVE REGARDLESS OF PRICE. Mr. Bennett's lifetime collection of car parts, vintage wall art, pedal cars, vintage tools, and memorabilia will be selling without reserve to the highest bidder.
Auction will be held at Bennett Classics Auto Museum, 241 Vance Street (just off of Main Street) Forest City, NC 28043.  Forest City is located between Asheville, NC and Gastonia, NC on Highway 74.
Auction will be held on Saturday, May 21 starting at 10:00 AM. (See schedule of events tab below)
Bidding will be live on-site, by phone, or on the internet.  There is a $50 fee for registration, refunded when vehicle purchase is made,  If you intend to bid on memorabilia only please, call our office.  (See bidding details below.)
For more information:
Tim Tuck 704-400-1127
timtuck70@gmail.com
Sherry Mack 704-661-5646 sherry@tommackclassics.com
Tom Mack 803-351-3695 tmack@tommackclassics.com
Tom Mack Auctions
NC Auction license #4017
www.tommackauctions.com
WATCH MUSEUM VIDEO BELOW
(YOU CAN EXPAND TO FULL SCREEN)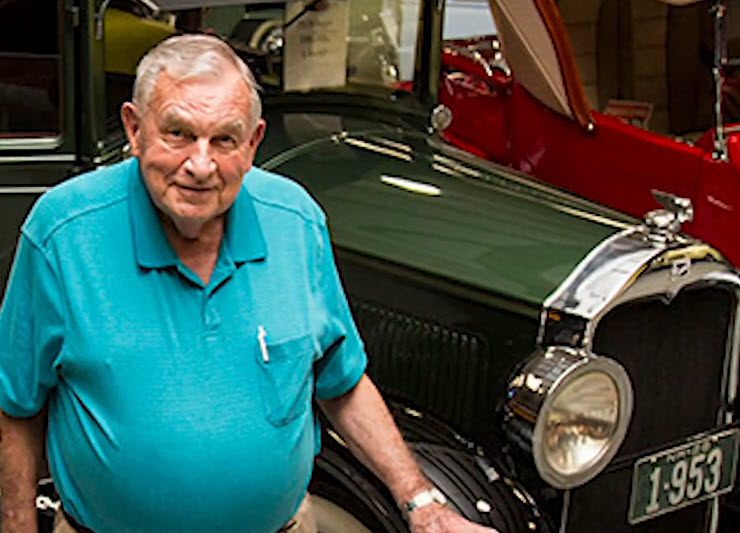 The Late Buddy Bennett
Navigate to Bennett Classics Auto Museum
241 Vance Street (just off of Main Street)
Forest City, NC 28043
Schedule of Events
Schedule of events
BENNETT CLASSICS MUSEUM AUCTION
Museum is not air conditioned. Dress accordingly
Thursday & Friday, May 19 & 20- 9:00 AM until 5:00 PM
Auction vehicle and memorabilia preview & bidder registration.
Saturday, May 21- Auction Da
 Entry fee   $10/person
8:00-9:00- Bidder registration.  BIDDER REGISTRATION CLOSES AT 9:00AM.  We cannot make any exceptions!
9:30 AM-Opening announcements
10:00 AM- Memorabilia Auction starts
Approximately 2:00 PM- Large sign, tractor, truck, and car Auction begins
(In the event we do not get all of the memorabilia items sold before 2:00, we will continue this after the last vehicle is sold)
Three Ways to Bid
THREE WAYS TO BID
1.  INTERNET BIDDING 
Go to proxibid.com, click on "Collector Car Auctions", then scroll to our May 21 Bennett Classics Auction. To bid, you will have to have an account and a credit card and a $1,000 refundable deposit will be required for this Auction. Once approved, Proxibid will assign you a bidder number and you may start bidding as soon as the site allows.  Bidding will terminate with the high bidder on sale day, May 21. If you are the successful bidder, our office will email an invoice and that invoice will include a 15% Buyer's Premium.  We expect rather immediate payment whether a wire transfer or an overnighted bank check. Your title will be sent out via FedEx as soon as the vehicle is funded.  If needed, we can help arrange shipping of motor vehicles. Question about this process may be directed to Sherry Mack at 704-661-5646



2. LIVE BIDDING ON LOCATION
Because of space, we are strictly limited to the number of attendees. You may register to bid on our website, at Auction site on May 19 & 20, or by calling our office at 704-661-5646.  See bidder registration links above.
Bid live on vehicles and memorabilia –
$50 to register to bid.  The fee will be refunded against auction fees on vehicle purchases.  Bank Letter or a $1,000 credit card deposit is required to bid on vehicles.  Vehicle bidder registration entitles bidder and guest to complimentary sale day admission and special seating as available.  Vehicle bidders may bid on and buy memorabilia items.
BUYER'S PREMIUMS: There will be 10% added to the hammer price on vehicle purchases and 15% added to the hammer price of memorabilia items.  Local and state sales tax will be added as necessary.  Titled vehicles are not subject to sales tax in North Carolina.
Bid live on memorabilia items- These items include all signs, furniture, antiques, car parts, and other items that are not motor vehicles. Bidders registered to bid on memorabilia items only may not bid on or buy motor vehicles, including tractors.  Register to bid onsite at Bennett Classics on Thursday, May 19 or Friday, May 20 between the hours of 9:00 AM and 5:00 PM and from 8:00-9:00 AM on sale day.  You may also register to bid by calling our office at 704-661-5646.  No memorabilia bidder registration after auction starts at 9:30 AM. You will have to have a driver's license to register.  There is no charge for this registration, but no complimentary admission and no reserved seating are included.
BUYER'S PREMIUM: There will be a 15% Buyer's Premium added to your purchases.  Local and state sale tax will be added as necessary.
3.  PHONE BIDDING
If there is a vehicle or 2 that you would like to bid on, please call or email  Tim Tuck at 704-400-1127.   (
timtuck70@gmail.com
).
He can take your application and credit card over the phone and you can let him know which vehicles you would like to bid on.  One of our auctioneers will call you when that vehicle is on the block and you may bid as if you are present.
Forest City Lodging

CLICK IMAGE TO BOOK ROOM

Click "Special rates"
Enter group code TMA and click "Close"
This will populate the rate
specifically for your rooms.

Hampton Inn & Suites
227 Sparks Drive
Forest City NC 28043
——————————————-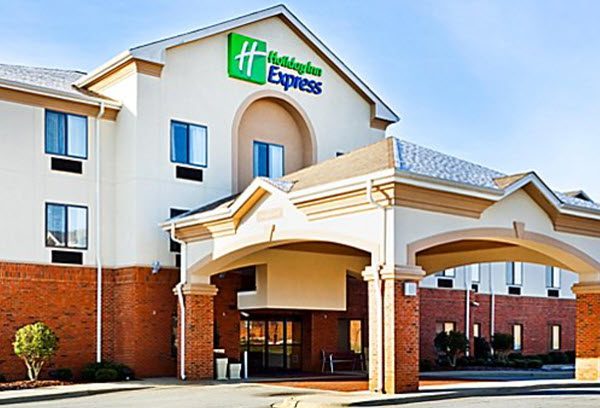 Holiday Inn Express
200 Holiday Inn Dr
Forest City NC
P-828-755-2000
F- 828-755-2001
Financing

J.J. BEST BANC & CO. offers fast and convenient collector car financing
on nearly all classic and collector automobiles, from antique
to more recent models. Get approved in as little as 5 minutes.